News
Solved launches an app for iPhones and iPads
by Eetu Helminen, Sep 27th 2021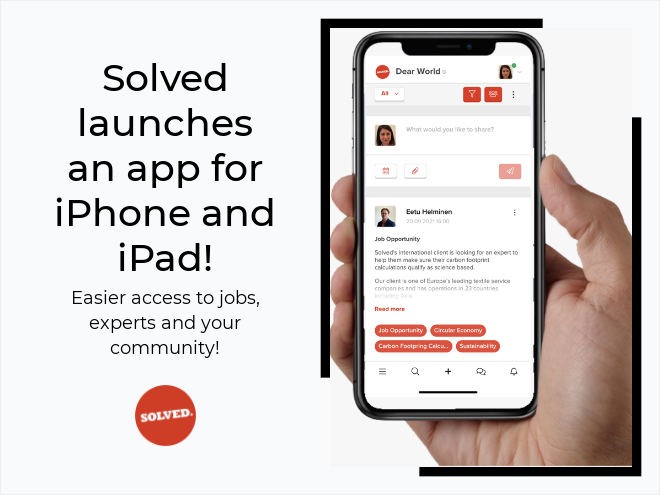 ​​Green jobs, experts and your community can now be accessed with only one click! 

Solved app for iPhones and iPads is now available on AppStore. Solved's new app simplifies the way its users can find jobs, hire experts and orchestrate their ecosystems. It offers a fast track to the platform, and is set to help organizations better manage and activate their ecosystems as well as collaborate on projects.
"In short, this makes it even easier for our community to make a true and positive impact on the real world. The app will bring the tools that you need right to your fingertips", says Innovation Lead and co-founder of Solved Radoslav Mizera
In addition to its marketplace, the Solved app can be used to access all 200+ Solved-powered "Solved Together" platforms. To download the app, go to app.solved.fi on your mobile browser and click on the notification. Or, you can download it directly from the App Store at https://apps.apple.com/sk/app/solved-together/id1458285927
We are able to create a separate branded app for each Solved Together platform. This means that all Solved platform owners can have an app according to their own brand identity. It makes a great business card for one's ecosystem and creates interest. For example, our client The DO has already seized this opportunity and is now using their own branded Solved app to access their ecosystem platform."The DO app can be found here: https://apps.apple.com/sk/app/the-do/id1534765883
Solved app has been available for Androids for a while and now the new one adds to the tool pack.
Solved Together is a one-of-a-kind digital platform to orchestrate, grow, and scale up your ecosystems as well as collaborate on building sustainable solutions. It is designed with a unique capability to be linked to all other 200 networks powered by Solved, such as the C40 network and the International Cleantech Network. This offers opportunities for experts and organisations to build sustainable solutions.
Solved is an impact company. Solved community creates a positive impact by bringing the best experts from around the world to solve the world's wicked problems. Solved Together is a digital tool for the organisations looking for solutions and to work regardless of time and place. This builds and scales up tangible solutions and their impact in the real world.